As I mentioned yesterday, the lovely team at Ottawa's Viennese Winter Ball selected me as the gifts sponsor.
So why a beautiful wooden bodied pen as a gift?
Lets start with the basics.
Rather than something made anonymously in a factory in China, my pens are individually made from carefully selected woods (and occasionally acrylics because of the amazing colors that are possible)  My autistic son helps with the cutting and drilling of the wood, my teenaged daughters weigh in on such important matters as color and texture. Some of my pens need very specific matches between the metallic accents on each pen mechanism and the unique details of the wood, and so we end up in a family discussion about just what makes the piece of wood appropriate for a specific pen.
So where does it all start?   Often it starts with the least assuming piece of wood:
So that is actually "scrap" wood from one of my lovely local wood suppliers. That is Canadian maple (likely  Ottawa valley) and as you can see it has a circular cut out in it.   The rest of the piece of wood will make a gorgeous bowl: but it makes the rest of the piece seem unassuming and "junk"  But if you look carefully there is all sorts of amazing texture and color, plus the pieces of bark are perfect for a pen.   So: start with a chunk of wood like this: looks like scrap, but with the right eye you can start to see potential.
So what's next?  Take the piece of wood and cut it carefully into sticks
You can see that I've worked very hard to capture beautiful pieces of bark and other pieces of texture in the wood.   By cutting it this way I can start to establish the shape of the future pen.
And then: the most critical part: cutting out final pieces of a pen.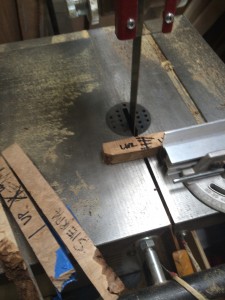 More later.